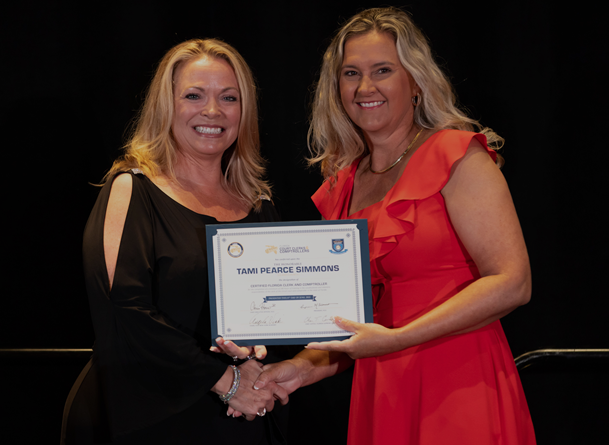 Tami Pearce Simmons, Completes New Clerk Academy, Receives Certificate and Designation
Moore Haven, Fla. – Tami Pearce Simmons, has been recognized by Florida Court Clerks & Comptrollers (FCCC) for completing FCCC's Class of 2020 New Clerk Academy (NCA) and earning the designation of Certified Florida Clerk and Comptroller.
During their 2022 Summer Conference, FCCC provided Tami Pearce Simmons with a certificate signed by Manatee County Clerk of Court and Comptroller and 2021-2022 FCCC President Angelina "Angel" Colonneso, Esq., Citrus County Clerk of Court and Comptroller and FCCC New Clerk Academy Chair Angela Vick, FCCC CEO Chris Hart IV, and Florida Supreme Court Chief Justice Charles T. Canady. A video from the ceremony is available here: New Clerk Academy Graduation Video.
Clerks of Court and Comptrollers have more than 1,000 statutory duties and provide critical services within their county, and NCA is an extensive certification program for newly elected Clerks and Comptrollers to help them better understand their new roles as constitutional officers.
The Class of 2020 New Clerk Academy, available to Clerks and Comptrollers elected in November 2020, was a blended structure of learning featuring instruction through in-person and virtual sessions totaling 240 hours. Each session included participation by representatives of partnering agencies, and courses were taught by Clerks, various clerk professional team members, subject matter experts, and industry professionals.
Graduating Clerks earn one of three designations based on their elected responsibilities: Certified Florida Clerk and Comptroller (CFCC), Certified Florida Clerk (CFC) or Certified Florida Comptrollers (CFCO).
NCA covers a range of topics in accordance with the eight modules of learning required by the Florida Supreme Court which include General Orientation/Office Transition, Administration and Office Management, Court Services and Operations, Records Maintenance and Management, Financial Administration and Management, Office Technology and Resources, State and County Government Organization, Structure and Relationships, and Personal Skills Development.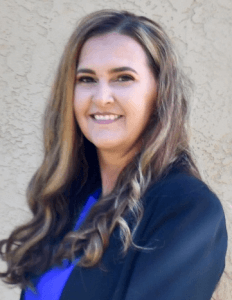 Glades County Clerk of Courts & Comptroller
Tami Pearce Simmons, Clerk of the Courts & Comptroller for Glades County, Florida is a duly elected Constitutional Officer as mandated by Article V, Section 16 of the Constitution of the State of Florida. The electorate of Glades County elects the Clerk to a four-year term. Clerk Simmons was elected to the Office of the Clerk in 2020.
Pursuant to provisions of the Florida Constitutions, which have governed the people for over 150 years, the role of the Clerk of Courts has been established in three main areas;
Clerk of the Circuit and County Courts
Clerk to the Board of County Commissioners, including serving as accountant, auditor, and custodian of county funds.
County Recorder
Within these areas, the Clerk of Court as an elected public trustee sets in place at the county level a system of "checks and balances" which has been proven to serve the public well.